Kontroversi Fitur Premium Menghindari Player Toxic Dota 2, Pay to win?
Published : May 19, 2019, 22:56 Reading time : 2 m and 21 s.
---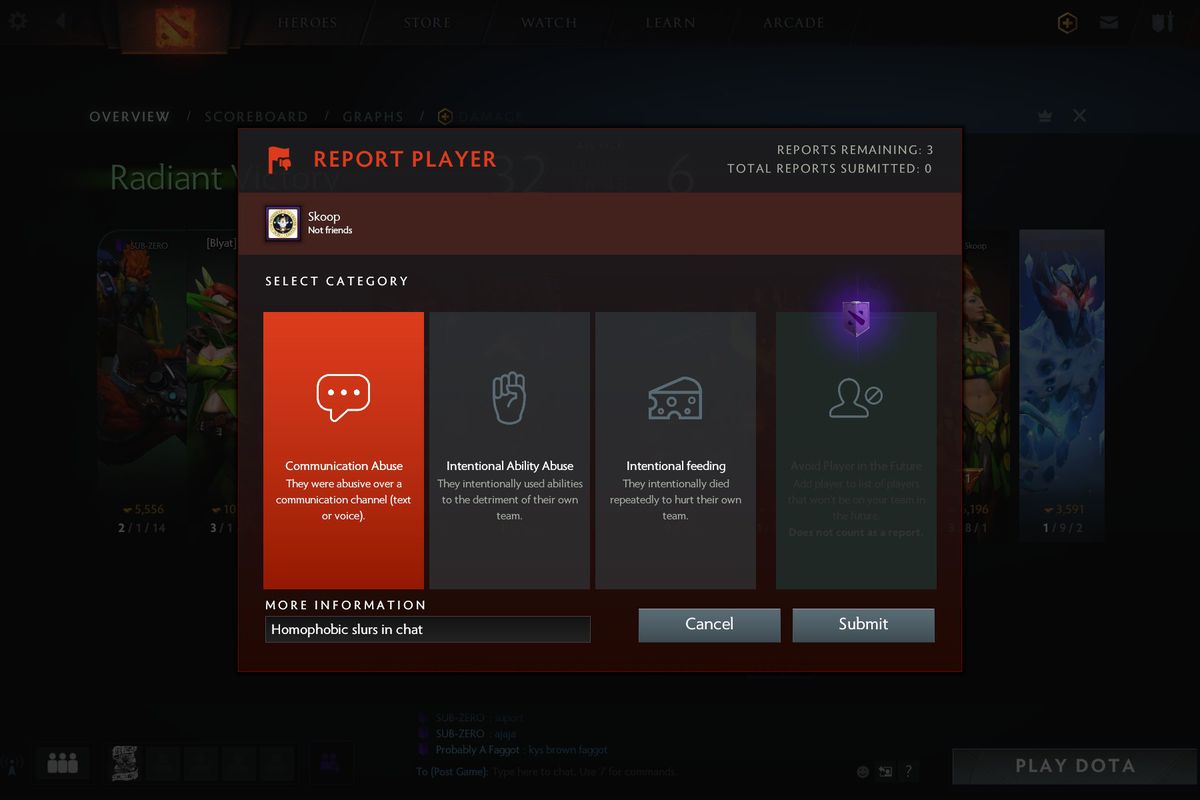 Dota 2 Battle Pass Premium Subscribtion Avoid Player / pict via theverge
MobaGenie
- Hampir semua gamer tidak hanya mereka yang hanya bermain game untuk hiburan semata, akan tetapi pro player juga tidak akan menyukai game dengan sistem Pay to Win. peraturan eSports sendiri tidak bisa memasukan semua game dengan sistem pay to win.
Dan bagi penggemar
Dota 2
, kalian tidak akan menyukai fitur premium terbaru yang dihairkan pada "Battle Pass", seperti yang dimuat TheVerge, dimana yang sebelumnya "Battle Pass" hanya berupa item untuk kosmetik, sekarang justru memasukan satu fitur penuh kontroversial. Dimana player yang membeli fitur premium tersebut, pemain akan dijauhkan dari pemain toxic di game Dota 2. Dengan kata lain, Valve sekarang mengharuskan pemain minimal membayar $ 9,99 atau sekitar Rp. 144.000 rupiah untuk menghindari pelecehan dari player toxic.
Banyak kontroversi dari fitur baru ini, ada yang menggangap Valve menjadikan Dota 2 pay to win, ada yang menganggap ini adalah cara paling ampuh untuk mengurangi jumlah player toxic di Dota 2.
Sebenarnya adalah bukan hal yang buruk jika melihat fakta bahwa Valve akhirnya mengambil langkah lebih intens untuk mengatasi masalah pemain toxic dan melindungi pemain Dota 2 dari player toxic. Tapi yang jadi masalah adalah, Valve menjadikanya sebagai peluang untuk meraup uang, bukan bagian dari perbaikan mendasar pada game yang memang sudah seharusnya ditawarkan kepada semua pemain secara gratis.
Fitur baru ini bakal terasa sekali Pay to Win-nya jikalau kalian sering bermain game solo di Dota 2 dimana sering sekali bertemu dengan player toxic yang mana semua tau player toxic sangat merugikan team. Bukan hanya dirugikan karena mendapatkan banyak umpatan kotor dan rasis, player toxic terkadang bermain sesuka sendiri dan paling parah AFK begitu saja yang mana sangat merugikan team-nya, bahkan berujung kekalahan.
Meskipun untuk masalah pemain yang toxic, berkata kasar dan menghina bisa diatasi dengan fitur mute di Dota2, dengan nama besar Valve dan pengembangan Dota 2 yang sudah lebih dari 5 Tahun, sudah seharusnya mereka sudah bisa mengatasi masalah yang boleh dibilang KLASIK tanpa harus membebani pemain dengan membayar. Mengambil contoh dari bebrapa nama game yang boleh dibilang tidak sebesar Dota 2 saja sudah bisa menerapkan sistem auto blokir beberapa kata offensif seperti F*ck, Ash*le, kata-kata rasis, dan auto banned player dengan statistik buruk, tanpa harus membayar pada perusahaan pengembangnya terlebih dahulu.
Dan menurut beberapa sumber, fitur ini sebenarnya TIDAK LAYAK untuk dibeli setidaknya untuk saat ini. kenapa? banyak player
Dota
yang mengatakan jikalau fitur ini hanya membuat pemain melakukan preferensi untuk tidak bermain dengan seseorang dan tidak ada jaminan player tidak akan bertemu lagi dengan player toxic tersebut. Kontradiksi? yap.. melabeli fitur dengan "menghindari pemain" tapi valve sendiri tidak benar-benar menghindarkan pemain dari pemain lain yang tidak diinginkan. Dan kenapa harus menjual fitur yang boleh dibilang kurang berguna ini dengan harga $ 9,99?
Pemain yang membeli fitur premium Battle Pass juga mendapatkan akses ke fitur high-five terbaru yang mana bisa melakukan "over time upgrade". Tetapi sampai Valve memperbaiki masalah medasar mengatasi banyaknya player toxic di DOTA 2, lebih baik kalian tunda saja.
(Genie/News)
---
TAG :
#MOBA
#Game PC
#News
#DOTA
#DOTA 2
#Kontroversi
#Fitur Premium
#Battle Pass
#Toxic Player